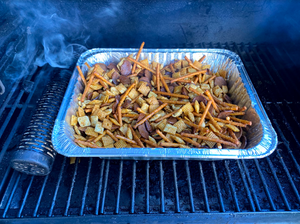 Let's Make Smoked Big Deck Barbecue Co. Chex Mix!
You'll need:
- 2 cups Corn Chex 
- 2 cups Rice Chex
- 1 cup cocktail peanuts
- 1 cup pretzel sticks
- 1.5 cup Garlic Rye chips
- 8 tbsp of butter
- 3 tbsp of dry rub of your choice
- 2 tbsp of Worcestershire sauce
- 1/2 cup Big Deck BBQ sauce of choice - we used OG!
Combine the cereal, peanuts, Rye chips and pretzels. Melt your butter and stir in your Big Deck Barbecue sauce, dry rub and Worcestershire. Pour your wet mix over the dry ingredients. 
Pre-heat your smoker to 225 degrees and cook for an hour, stirring every 15 minutes. 
After an hour, let cool and enjoy warm! If you're storing it, make sure to add to an air-tight container or Ziploc!
We hope you enjoy the weekend - let us know if you try this tasty treat!
#LifesBetterOnABigDeck
---