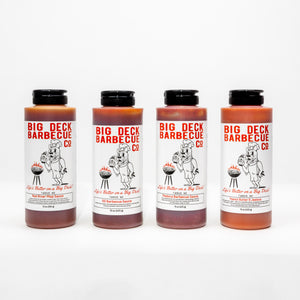 Better than the best.
Put it on everything.
flavor is good.
light the fire.
Don't Take it From Us - Here's what our customers are saying:
I got my husband a bottle of the Garlic Jalapeño hot sauce, and he is OBSESSED. I'm hoping it comes in a gallon jug 😅

Jean G.
I've only tried the Peanut butter and Jealous, but I'm HOOKED!!! I literally put it on EVERYTHING! I cannot wait to try more!!

Rossi P.
Cannot believe the quality of these products! Fresh, flavorful and a great variety to use no matter the meat or veggie! I absolutely love the Small Town ND series-the fruit and coffee selections are perfect for pork, poultry, beef and fish! It was amazing on our pulled pork we did yesterday! Thanks so much Tyson and family-we will be doing lots of experimenting with all your sauces! 🌟🌟🌟🌟🌟 5-Stars!

Tony N.
Badlands Rub paired well with our NY Strips. Just a little tang on the back end. Can imagine what it'd do to pork or chicken. Good stuff!

Jim M.
The product is next level good! I use the rubs/spices and sauce dang near on anything I make. They know how to run a business and treat their customers well. I greatly appreciate everything!

Nick S.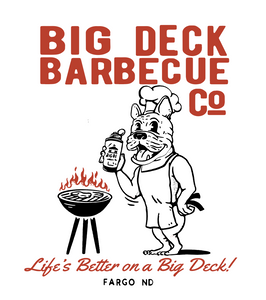 Who are we?
We may look a little different than the last time you saw us, so let us explain - our look on the shelf has varied a bunch, even in the last two years. We've hit different stages in our journey and with that, comes change. This is our next era! My first dog, Frank is now the official mascot of Big Deck Barbecue Co. and I'm stoked to have him grace our label! Big Deck has always been unique and full of personality - now our label represents that.
We're introducing new packaging along with the new labels - new flip-cap squeeze bottles (no more clogging) along with new higher quality hot sauce and seasoning bottles. Everything looks a bit different, but the goods haven't changed and neither did the amount each bottle holds. We're so excited about these and can't wait for you to try them out yourselves.
As some things change, some things will always stay the same:
We are proudly blended and bottled in Fargo, North Dakota - our commitment is to delivering high quality, unique sauces and seasonings - from our family to yours.

The 'Big Deck' is where our love for great food started and we're so lucky to be able to share that love with you.

Always remember:
Life's Better on a Big Deck!