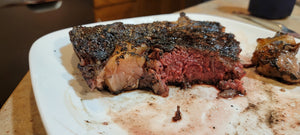 Rub Me The Right Way
Hey everyone. Since we've introduced our rubs, the question we get the most is, "Great. Now what?". Good point. Well, that's what I'm here for.
Deck Dirt
This one is short and sweet. Beef. Slap it on your burgers, steak, or roast. It adds the prefect compliment of seasoning to your beef and gives you a presentation that cannot be beat.
Badlands Rub
This one is the wild card. It's so versatile but much like our Medora sauce, it adds a kick to your dining experience.
One of my favorite ways to use it is on my Armadillo Eggs. Start your smoker or grill and get it up to about 225 degrees.
I start in the middle and work my way out. Mix a block of cream cheese, very crispy bacon (crumbled) and about 4 oz of shredded cheddar cheese. Add as much or as little as you want. There's no wrong way to do this. Then I core and seed my jalapeños. Take your cheesy deliciousness and stuff it all the way to the bottom of your jalapeños. From there, wrap each jalapeño with about a 1/4 inch of ground pork sausage. One nice touch I add at this point is to wrap the eggs in a single layer of thin bacon. I mean, bacon, right? Then add some Badlands Rub to the outside. 
From here, place the eggs over the "cool" side of the grill to avoid direct heating. Heat until your internal temp is 165. Well, not YOUR temp. That would be very bad. The temp of the eggs. This can take up to two hours or 4 beers, depending on your mood. You can also brush on some of your favorite Big Deck BBQ sauce for the last 30 minutes for an amazing presentation. We suggest Medora. 
These eggs are a crowd favorite and will leave your friends asking for more.
Fargocoa
What on earth do I do with this? Well here you go, friends.
I love to make shredded beef (barbacoa) or pork (carnitas) tacos. Fargocoa will be your huckleberry. I love to use a cast iron Dutch oven for this. I picked up a cheap one in the camping section and it rocks. Heat your Dutch oven with a little olive oil in it. Take a 3-5 lb. pork shoulder, trim the fat, and cube it into about 2"x2" cubes and sear the outside to develop a nice crust. Once all the sides have a nice sear, apply Fargocoa, one cut and squeezed orange, and 2-4 cups of low sodium beef broth.
Cover it and heat at about 400 degrees for about 2-3 hours until the meat reaches an internal temp of 195. At this point, the meat should pull apart easily. Serve on a tortilla with whatever toppings you like. I suggest chopped onions, fresh cilantro, and a squeeze of lime.
So there you go! I hope this helps you on your grilling/smoking journey and maybe you'll be able to knock your friends socks off along the way.
#LifesBetterOnABigDeck 
---